BioPreferred® Program Excellence in Procurement Awards
Do You and Your Colleagues Deserve to be Recognized? Submit a Nomination for Our "Excellence in Procurement" Awards
Nomination Period Extended to September 5th!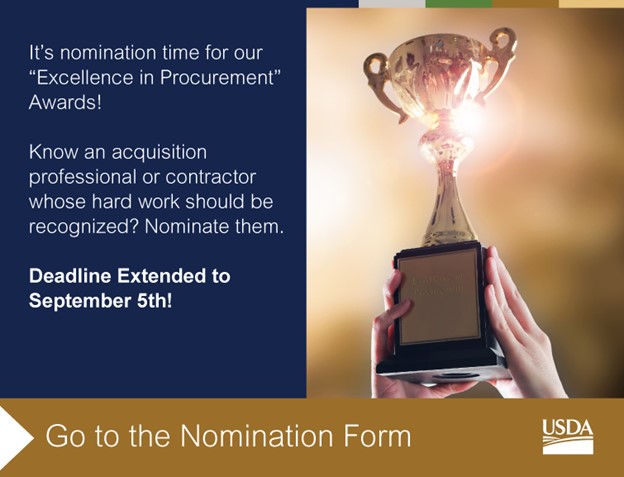 Through our annual "Excellence in Procurement" Awards, the BioPreferred Program® recognizes outstanding achievements by federal employees and contractors who advance the purchase and use of biobased products and make significant contributions to sustainable acquisitions. All federal employees and contractors procuring biobased products for the Federal Government between FY2020 to FY2021 may be considered for this year's awards.
And the deadline for nominations has been extended to September 5, 2022!
Did you excel at ensuring biobased products were included in your solicitations and contracts? Do you know a Contracting Officer, federal contractor, or other federal acquisition professional whose work deserves recognition when it comes to maximizing the use of biobased products?
Nominate yourself, a colleague or team of procurement professionals for an award using this link.
The nomination process is easy!
Provide the name(s) of the individual(s) who deserve recognition
Summarize your reasons for nominating them
Include a more detailed description of why you believe the award is deserved.
You may also include photographs or attachments.
Nominations can be based on a specific accomplishment or body of work related to the purchase and use of biobased products and/or contracting for the purchase and use of biobased products.
USDA will evaluate award nominations based on:
Demonstrable results in the purchase and use of biobased products that drive U.S. economic activity and U.S. job creation.
Models for acquiring, using, or validating biobased products that replace non-biobased products.
Process achievements such as including biobased products requirements in contracts resulting in the purchase of biobased products.
Overcoming barriers that limit opportunities for incorporating biobased products in federal activities such as revising specifications to require biobased products.
Innovations that can serve as a model or be transferred readily to other processes, facilities, divisions, sub-agencies, or contractors.
Winners will receive a plaque, have their success stories featured on the BioPreferred Program website and in issues of our BioBuzzGov and BioBuzz newsletters, and be promoted to the media.
Thank you for your anticipated submissions. We can't wait to read them and celebrate the ways the federal sustainable acquisition community is buying and using biobased products!
Have questions about this Awards program? Please contact Vernell Thompson at Vernell.Thompson@usda.gov.