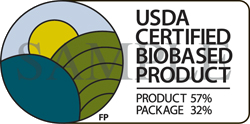 Voluntary Labeling Initiative
Through the Voluntary Labeling Initiative, companies may apply for certification to display the USDA Certified Biobased Product label on a product that states its third-party tested and verified biobased content. The purpose of this label is to make it easy for consumers to locate and compare biobased products for purchase. By choosing a biobased product labeled, USDA Certified Biobased Product, the consumer can be assured that the USDA and the federal government stand behind the accuracy of the percent of biobased ingredients as stated on the label.
The USDA has established minimum biobased content standards for many product categories. A product must meet or exceed the minimum biobased content percentage in its given category in order to qualify for certification. Products belonging in categories for which minimum biobased content requirements have not yet been established must contain at least 25% biobased content.
What is a biobased product?
Biobased products are derived from plants and other renewable agricultural, marine, and forestry materials. These products provide an alternative to conventional petroleum derived products and include a diverse range of offerings such as lubricants, detergents, inks, fertilizers, and bioplastics. For the purposes of the BioPreferred program, biobased products do not include food, animal feed or biofuels.