Biobased Products Used in Construction of Crescent District Office for USDA Forest Service
In constructing the new Crescent Ranger District Office of the Deschutes National Forest Service, the Forest Service and their contractor C.S. Construction of Bend, Oregon were thoughtful in their selection of construction products. According to Project Engineer, Chad Houchin, USDA's goal was to achieve Leadership in Energy and Environmental Design (LEED) Silver certification from the U.S. Green Building Council. The use of biobased products in the construction was part of the plan. And the contractor, C.S. Construction, mindful of the clauses in their contract requiring the use of biobased products, was diligent in proposing biobased products to USDA. The process involved the contractor submitting construction products they planned to use, and Forest Service architects and engineers reviewing and approving the products. Biobased products used in the construction of the Crescent District Office included roof coatings, flooring, paint, stains, and composite panels.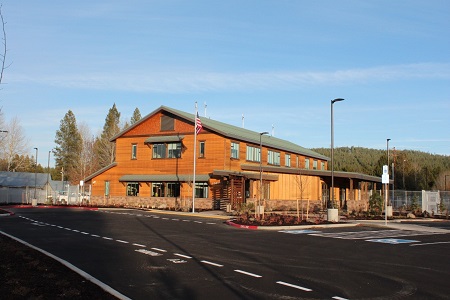 Celebrating more than a century of forest management, the Deschutes National Forest runs along Central Oregon's Cascades—from the Mount Thielsen Wilderness at its southern tip to the Mount Jefferson Wilderness at the northern point. The Deschutes National Forest encompasses nearly 1.6 million acres, offering year-around recreation opportunities. The new Ranger Station serves as a visitor and information center for the National Forest.