Ready to Stock Up on School Supplies, Office Supplies, and More?
Check out these USDA Certified Biobased Products before you shop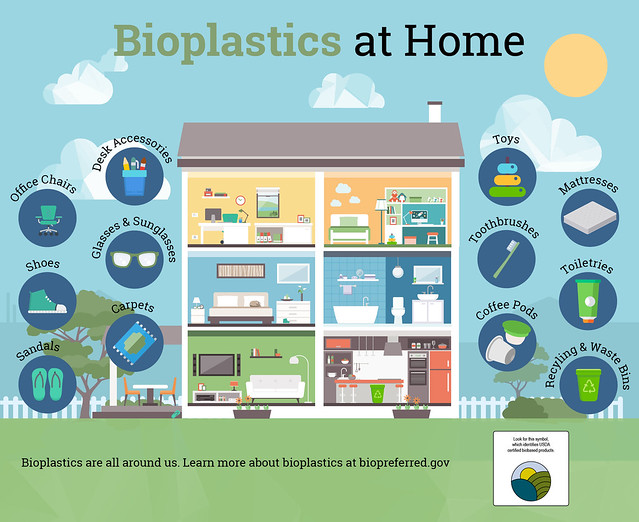 It's back-to-school time! Whether your student will be learning in the classroom or at the kitchen counter, you may need to stock up on new supplies. But have you ever wondered what those supplies are made of? As part of the USDA Rural Business-Cooperative Services, the USDA BioPreferred Program online catalog lists a range of school supplies that are all certified biobased. So, if you're on the hunt to buy products that are derived from plants and other agricultural, marine, and forestry materials, and which will help to support the business and economic development efforts of USDA Rural Development customers, here's some inspired back-to-school ideas from our catalog.
Take note

- Stock up on wire bound notebooks, pens, legal pads, printer and copier papers (laser and inkjet), as well as envelopes.

Get organized

- With products made of bioplastics, like self-stacker desk trays (in legal and letter sizes), vertical file holders, and binders, or biobased file folders, your student can keep all their papers and assignments in one place. (And don't forget August 17-21 is #bioplasticsweek!)

Go Bold

- Refill your printers with biobased black and color inks, toners, and cartridges.

Keep clean

- Scrub learning areas free of dirt and grime with all-purpose surface wipes, multipurpose cleaners, and paper towels (that can all be tossed in biobased trash bags!)

Be healthy

- Whether at home or in the classroom, everyone should have a stockpile of hand cleaners, disinfectants, and soaps to help them stay germ-free and healthy.

Stay fresh

- Pack lunches and snack items in sandwich bags, cling wrap, paper lunch sacks, or on-the-go food containers, all tucked with napkins and disposable utensils.

Take a seat

- Look for biobased woven fiber carpet products that you can use to create a reading rug or designated play area for your preschooler, kindergartner, and early reader!

Renew self-care

- Back to school is also a great time to refresh self-care routines. Look for items like lip balm, lotions and moisturizers, facial tissues, toothpaste, sun care products, and even topical relief ointments for playground (or backyard) cuts and scrapes.
So, before you head to the store or your favorite ecommerce site, make a list of the USDA Certified Biobased Products that will best help you and your students settle into an A+ school year.
Find our online catalog at: www.biopreferred.gov/BioPreferred/faces/catalog/Catalog.xhtml