Article
Elevate Spring Cleaning with Biobased Products
Whether it is cleaning at home or in the workplace, there are few spring routines more satisfying than the annual deep clean. Before you can get to work, make sure you're stocked with your must-have cleaning supplies. There are many biobased cleaning products that are cost-effective, safe, non-toxic, and help to reduce the impacts of climate change and the pollution of land and water. Does every biobased product meet all of these attributes? No, you still have to evaluate each product you select, but there are many biobased products that deserve serious consideration.
Biobased Surfactants and Enzymes
In biobased cleaning products, fossil fuel-based ingredients are generally replaced with ingredients such as biobased surfactants and enzymes.
Surfactants are a primary component of cleaning detergents. The term 'surfactant' is shorthand for 'surface active agents,' which combine materials such as water, oils, fats, and solvents, facilitating the cleaning action. There are many biobased surfactants used in detergents, most of which are derived from plant-based oils.
Enzymes, which are biobased, are catalysts that increase the rate of chemical reactions and are used to ensure a higher degree of stain removal, whiteness, and overall cleaning performance. Enzymes are commonly used in laundry detergents since they allow for washing in colder temperatures thus saving energy.
There are other types of biobased ingredients, such as microbes, which also help to make biobased cleaning products highly effective and desirable.
Types of Biobased Cleaning Products
There are many types of biobased cleaning products to consider when stocking up on cleaning supplies such as:
Multi Purpose Cleaners
Glass Cleaners
Carpet and Upholstery Cleaners
Laundry Products
Floor Cleaners and Protectors
Floor Strippers
Microbial Drain Maintenance Products
Degreasers
Graffiti Removers
General Purpose Household Cleaners
Bathroom and Spa Cleaners
Many of the most well-known brands of cleaning products offer biobased options. A good place to start when looking for biobased cleaning solutions is the USDA BioPreferred Program Catalog. Another way to find biobased cleaning products is to look for the USDA Certified Biobased Product label on the product.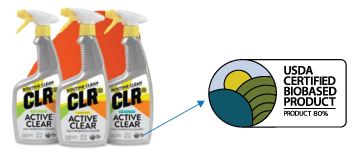 The USDA Certified Biobased Product Label indicates the biobased content percentage of the product as displayed on the label.
Consider Packaging and Other Environmentally Friendly Options
When choosing a biobased cleaning product, consider other "green" options as well. Choose products that minimize packaging such as concentrated formulas, refillable spray bottles, and containers made from biobased and recycled content.
You can also choose biobased cleaning tools such as biobased brushes, sponges, gloves, and trash bags.
Whatever your cleaning needs, there are biobased products that perform well, are cost-effective and that are generally safer, less toxic, and better for the environment.