Article
Powerizer Complete Earns Approval to Display USDA Certified Biobased Product Label across Four Distinct Categories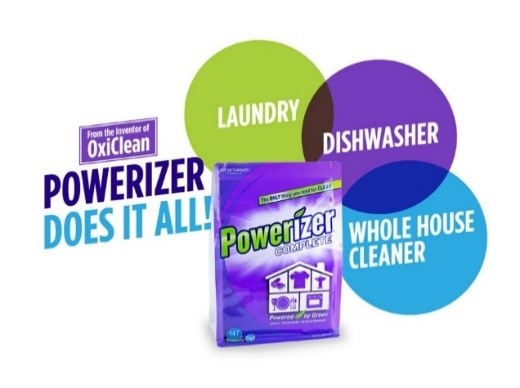 Plant and Mineral-Based Cleaner Certified Across Dish, Laundry, Carpet and Multi-purpose Cleaners
Powerizer Complete, the all-purpose plant and mineral-based home cleaner that effectively cleans laundry, dishes, kitchen, bathroom, carpet, and every surface of the whole house, inside and out, has earned approval to display the U.S. Department of Agriculture's (USDA) Certified Biobased Product label across multiple product categories, including Dish, Laundry, Carpet and Multipurpose cleaners.
Powerizer Complete is the first innovation in detergent in 20 years. Uniquely derived from plants and minerals, the product is as efficient as leading brands without using built-in additives, toxins, phosphates, dyes or fillers. Consumers no longer need to choose between effective and safe cleaning products. And with its ability to clean almost anything, Powerizer Complete is the best and most cost-efficient home cleaning solution for customers.
USDA's BioPreferred® Program, which administers the voluntary labeling initiative, works to support rural communities and promote a thriving bioeconomy through the increased development, use, and purchase of biobased products — products that are derived from plants and other renewable materials and serve as alternatives to petroleum-based products. The USDA Certified Biobased Product label displays a product's biobased content, which is the portion of a product that comes from a renewable source, such as plant, animal, marine, or forestry feedstocks. Powerizer Complete is made from corn and sugar and is certified as 70% biobased.
"We applaud Powerizer for earning the USDA Certified Biobased Product label," said Kate Lewis, USDA BioPreferred Program. "Products like Powerizer Complete contribute to an ever-expanding marketplace of innovation that adds value to renewable agriculture commodities, creates jobs in rural communities, and decreases our reliance on petroleum."
Powerizer Complete was developed by the same innovative team behind OxiClean, Orange Glo and other products. The founder originally became interested in sustainable products when he experienced the toxic smell of professional cleaning products in public bathrooms.
"We are proud to have developed a product that earned certification across such a wide range of categories," says Marsha Acosta, CEO of Powerizer. "It is a testament to the effectiveness of Powerizer Complete to be able to clean the entire home, inside and out while also reducing the exposure to toxic chemicals that are common ingredients for most cleaning products."
Powerizer Complete gets any household cleaning job done in just one small scoop or less. The all-in-one cleaner "Powers-Out" dirt, stubborn soil, tough stains, skin-irritating residue and odors, and even tackles machine clogging build-up. With its unique formula, Powerizer Complete prevents etching and rust, eliminates hard water spots, film and soap scum, as well as any smells in the dishwasher or washing machine, and is made with biodegradable plant or mineral-based ingredients.
Powerizer Complete is available online and is rolling out to retailers this year.